Rogue security companies threaten US gains in Afghanistan war
The Pentagon is dependent upon contractors in the Afghanistan war. But many of the security companies are undermining – or even working against –the US war effort.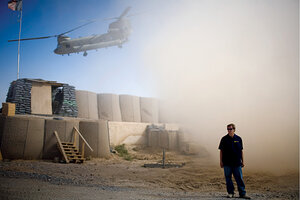 Rodrigo Abd/ AP/ FILE
Since its Revolutionary days, the American military has been no stranger to the use of paid help – from carpenters to ditch diggers – to wage war. By 1965 in Vietnam, the practice of relying on private defense companies became widespread enough within the Pentagon that Business Week dubbed it a "war by contract."
In Afghanistan, the use of private contractors has reached record levels. A 2010 Congressional Research Service report found that they now make up 60 percent of the Defense Department's workforce. With fewer US soldiers than contractors throughout the war-torn country, the Pentagon is more dependent on private defense contractors than ever in its history.
Contractors bring in fuel and food for American soldiers in Afghanistan along what many consider to be one of the most complex and treacherous supply chains in the history of modern warfare. They keep installations running, guard key NATO bases, and train Afghan police.
Yet there is a growing chorus of warnings from both within the US military and on Capitol Hill that the Pentagon's dependence on contractors is undermining its own war efforts. A Senate Armed Services Committee investigation this month further concluded that the widespread use of contractors puts at risk the US exit strategy of training Afghan security forces – Afghan soldiers and police routinely leave the service to take more lucrative jobs with private defense companies.
---
Follow Stories Like This
Get the Monitor stories you care about delivered to your inbox.