In Melbourne, Mullen keeps US sights on China, Iran
In Melbourne to meet with his Australian counterparts, Joint Chiefs of Staff Chairman Mike Mullen stressed US interest in assessing China's growing military capabilities.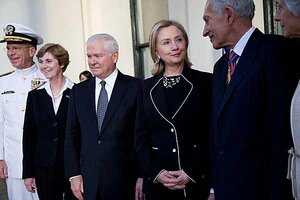 Evan Vucci/AP
When America's top military officer gets together with his counterparts from other countries, he generally asks for their advice about China.
"I'm anxious to understand what the assessment of their capabilities is," says Mike Mullen, chairman of the Joint Chiefs of Staff, "and how they're evolving over time."
China's capabilities include considerable cyberespionage expertise and a robust Navy, fruits of a growing defense budget in a country that largely escaped the impact of the global financial crisis.
These trends are troubling to US military officials, who are seeking to expand American military presence in the Pacific.
"We're very anxious to make sure that no one thinks we're walking away from here – because we're not," Admiral Mullen says.
China's efforts to flex its muscle in recent years have at times sent shockwaves through the Pentagon, including the successful ballistic missile shoot-down of one of its own orbiting satellites in 2007, a feat widely seen as an ominous move toward the militarization of space. "I'm increasingly concerned about where China seems to be heading with that," Mullen says.
---