Veterans Day free meals: one way businesses are saying 'thanks'
Veterans Day free meals and discounts on merchandise are among the many deals businesses are offering to express gratitude to US military veterans and active-duty personnel.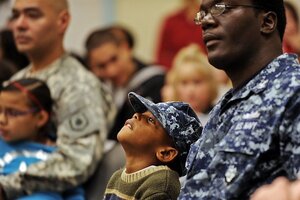 Sean D. Elliot/AP
Need a meal or a haircut? Maybe a new power saw for your shop or even a bridal gown?
If you're a military vet, Veterans Day means all of these – and much more – are available to you free of charge or at a discounted price.
Across the country, restaurants, retail stores, lodgings, and recreational facilities – thousands of them – are offering special deals for veterans, active-duty military personnel, and their families.
For two years now, US Marine Corps vet David Nelson has gone door-to-door in Seattle, asking businesses if they'd like to honor military veterans in their community. Last year, his list of "freebies and discounts for veterans on Veterans Day" – posted online to his blog site – numbered 20. This year, it's 30, mostly restaurants but also everything from the Seattle Art Museum to the Brown Bear Car Wash.
"Military deployments and training are hard on families, and to me it's an honor to name restaurants where a military family can sit down as a family and enjoy a meal after a day at the zoo at a minimal price," says Mr. Nelson, now an instructor at local community colleges. "Lately, I've had businesses approaching me asking if they can be listed as places that will honor veterans."
---