Pentagon conundrum: What if 'don't ask, don't tell' survives?
Adm. Mike Mullen, America's top military officer, says the Pentagon is studying how – not whether – to end the 'don't ask, don't tell' ban on openly gay members. But some lawmakers are balking.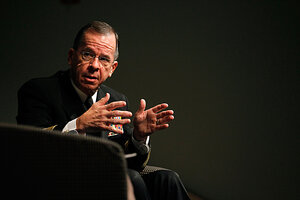 Jae C. Hong/AP
The nation's top military officer says regardless of whether Congress passes legislation lifting the ban on openly gay service members, there has been value in the conversation that the prospect has generated among US troops.
"I think it is clearly the first time that we've really had this kind of discussion with the military on this subject," says Chairman of the Joint Chiefs of Staff Adm. Mike Mullen. "Certainly, it hasn't happened before."
What happens next for the "don't ask, don't tell" (DADT) law is an open question among military officials. It is widely expected that a Pentagon survey to be released Dec. 1 will find that many troops have little to no concern with lifting the ban. If the nation's top officer and other senior defense officials support overturning it, then how, many wonder, does the military return to business as usual should Congress not act?
In past months, Mullen has been vocal in his support for overturning current Pentagon policy. "I feel an obligation to lead should this change," he says. "I find it very difficult to be in an institution that values integrity – and integrity is a cornerstone of the American military – and yet we ask people to come and join us and work every day as a living and sacrificing member of this great military, and lie every day about who they are."
---