War in Afghanistan: Pentagon report cites 'progress,' provides little
The Pentagon's semiannual report to Congress on the war in Afghanistan has 'progress' in the title but little elsewhere. Instead, it chronicles corruption, violence, and a growing insurgency.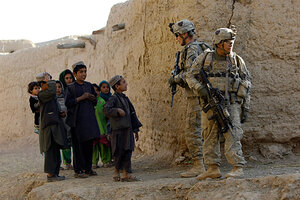 Alexander Zemlianichenko/AP
The Pentagon's semiannual report to Congress on the war in Afghanistan paints a picture of a country where corruption remains rampant, violence has increased, and a well-funded Taliban insurgency continues to make troubling gains.
The report, "Progress Toward Security and Stability in Afghanistan," which was released this week, actually cites little in the way of progress in the war, a major US undertaking that is rapidly losing popular support among Americans and threatens to become a political burden on President Obama.
The number of Afghans rating their security situation as "bad" is "the highest since the nationwide survey began in September 2008," the report's authors write, noting that the "downward trend in security perception is likely due to the steady increase in total violence over the past nine months."
The rise in violence, however, was an anticipated outcome of the ramped up US military operations in the country, the Pentagon says.
A senior defense official who briefed reporters on the findings Tuesday afternoon said the violence is "exactly what we expected. It's what we predicted." It is the result, he says, of an influx of US troops into the country – a US presence that is now at an all-time high of some 100,000 military personnel – running headlong into an active insurgency.
---