How military families will celebrate holidays with deployed relatives
Planning months in advance to soothe holiday separation, military families open presents via Skype or send care packages to deployed loved ones.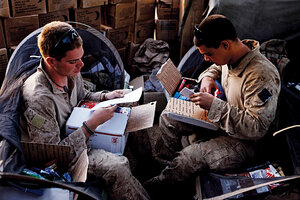 Finbarr O'Reilly/REUTERS
In late October, a week before Master Sgt. James Tongate left for his third mission to Afghanistan with the Kentucky Air National Guard, his extended family gathered in Louisville, Ky., to celebrate his favorite holiday. At his request, they gobbled up a Thanksgiving honey-baked ham instead of turkey, topping off the meal with pecan and pumpkin pies.
"We tried not to dwell too much on the sadness, because of the kids being around," says his wife, Michelle Tongate.
Since he'll be away for Christmas, she bought him a 14-inch battery-operated tree. Their sons – Caleb, age 10, and Noah, 13 – attached special notes to it and wrapped it for him to take. Tongate knows what's inside but plans to open it while the family watches over Skype in early December.
While many Americans will feast and cuddle up around warm hearths during the holidays, thousands of military families have had to plan ahead to adapt their traditions to the demands of deployment.
"It's hard on both sides.... [On holidays,] families all gather, so to have somebody not there is more palpable," says Rabbi Harold Robinson, a retired Navy rear admiral who is director of the JWB Jewish Chaplains Council in New York.
---