Pentagon already taking steps to blunt 'don't ask, don't tell'
A repeal of 'don't ask, don't tell' failed in the Senate Thursday, but the Pentagon is already changing policies to make it more difficult for the military to expel gays.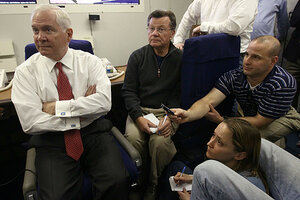 Win McNamee/AP
Senior Pentagon officials expressed frustration this week with the Senate's failure to repeal "don't ask, don't tell." Secretary of Defense Robert Gates, for his part, said the development "disappointed" him.
He warned of the widespread confusion that would be introduced into the military ranks if the courts act before Congress does. "My greatest worry," he said, "will be that then we're at the mercy of the courts and all of the lack of predictability that that entails."
These fears are well-founded, Pentagon officials stress. But in the near future, a series of directives recently put into place by Mr. Gates and other senior administration officials make it far more difficult for gay troops to be discharged from the military, even while the ban is still in place.
New directives
The Pentagon announced in October, for example, that any "don't ask, don't tell" discharge would from that point forward would require the approval of senior civilian officials in the Defense Department – officials who are also Obama administration appointees. President Obama has said that he wants to see the ban overturned.
---