In historic vote, Senate moves to end 'don't ask, don't tell'
Eight Republicans joined Democrats to vote for an end to the 1993 'don't ask, don't tell' law banning gay troops from serving openly. Proponents compare it to ending racial segregation in the military.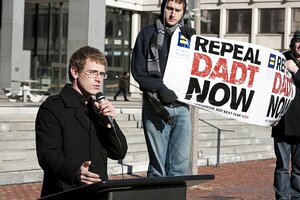 Newscom
The Senate Saturday voted to end a longstanding ban on gay troops serving openly in the US armed services – a move Democrats compare to President Truman's ending the ban on racial segregation in the military in 1948.

"It is time to close this chapter in our history," said President Obama in a statement. "It is time to recognize that sacrifice, valor and integrity are no more defined by sexual orientation than they are by race or gender, religion or creed. It is time to allow gay and lesbian Americans to serve their country openly."

Six Republicans – Sens. Scott Brown of Massachusetts, Susan Collins and Olympia Snowe of Maine, Mark Kirk of Illinois, Lisa Murkowski of Alaska, and George Voinovich of Ohio – broke with their party to give Democrats the votes needed to break a GOP filibuster. The measure subsequently passed, 65 to 31. Sens. John Ensign (R) of Nevada and Richard Burr (R) of North Carolina also joined Democrats on the final vote.
---