Beyond 'don't ask, don't tell': How is military planning to make it work?
As the military marches into a post 'don't ask, don't tell' future, some policies will be easier to devise than others. Troops' living conditions will be relatively simple. Rights for gay partners won't.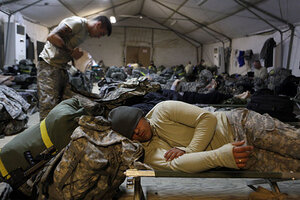 Maya Alleruzzo/AP
Now that Congress has passed the repeal of "don't ask, don't tell," which banned openly gay troops from serving in the armed forces, the Pentagon must figure out how, precisely, to devise regulations governing the lives and service of homosexual members of the armed forces.
In the months ahead, the military will be grappling with questions like whether there should be separate bathroom facilities for homosexual soldiers, for example, and whether same-sex partners will have the right to the same benefits that heterosexual spouses do. These include everything from the privilege of shopping at base grocery and department stores (where goods are generally cheaper and sales are tax-free) to living in base housing and access to health care.
Some of these decisions will be less tricky – and less fraught – than others. In the category of, say, "particularly complex" is whether gay troops will be eligible for the cash housing allowances that married soldiers get, but that single soldiers with live-in girlfriends or boyfriends do not.
The matter of same-sex bathrooms is far more straightforward, according to the recommendations of the military leaders who headed up the Pentagon's recent study on attitudes towards gay troops serving openly in the military. "In the course of our review, we heard from a very large number of service members about their discomfort with sharing bathroom facilities or living quarters with those they know to be gay or lesbian," the report's authors conceded. "Some went so far to suggest that a repeal of Don't Ask, Don't Tell may even require separate bathroom and shower facilities for gay men and lesbians."
'More harm than good'
---