Afghanistan war: how a model province tumbled into violence
Khost Province had been a US success story in the Afghanistan war. But poor local leadership, an influx of insurgents fleeing US pressure elsewhere, and the proximity to Pakistan are stubborn challenges.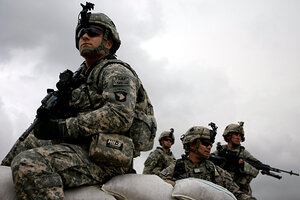 Rafal Gerszak/Reuters/file
It wasn't long ago that Khost Province in eastern Afghanistan was a counterinsurgency success story for the US military. Journalists were encouraged to arrange reporting trips to the relatively calm showpiece region, but generally eschewed it in favor of areas where there was more fighting.
In the past two years of the Afghanistan war, however, violence in Khost has been on the rise as incidents of attacks and roadside bombings have crept upward.
Just what happened is something military analysts have been wrestling with for some time. This week, Col. Viet Luong, the US Army commander of the 3rd Brigade Combat team of the 101st Airborne Division, suggested that corrupt or inept local leadership combined with an influx of insurgents fleeing east from new NATO offensives in the south contributed to Khost's decline.
Colonel Luong, who assumed command of the area last January, told Pentagon reporters that there are some signs that security in Khost is improving to some extent. But assassinations of local Afghan officials are on the rise, and with other factors complicating the war effort, the region is years away from being ready to be turned over to Afghan security forces, he said.
---