USS Enterprise: Do lewd videos point to deeper problem for military?
Capt. Owen Honors of the USS Enterprise was not sanctioned until this week for making lewd videos and broadcasting them over the ship's televisions several years ago. Critics say such permissive behavior contributes to rising rates of sexual crime in the military.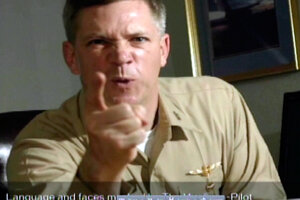 The Virginian-Pilot/Reuters
The news that US Navy Capt. Owen Honors was permanently relieved of his command Tuesday for making the lewd videos for the entertainment of his ship's crew is likely to be just the beginning of an ongoing investigation. The question now is why US Navy leadership, which apparently knew about the videos – made from 2006 to 2007 and punctuated by simulated sex acts and gay slurs – didn't intervene sooner.
The news was received with some sadness by loyal subordinates who called Honors a caring leader who took part in these productions – broadcast over the ship's closed-circuit television system – in an effort to keep up morale during a time of war.
It was greeted with some satisfaction by civil rights groups, however, who argue that the military has too long tolerated sexual harassment in its ranks – behavior, they add, that creates a climate that permits sexual assault to occur with far more frequency than it should in the American military.
IN PICTURES: Controversial US Generals
Indeed, Pentagon efforts to stem the increase in sexual assault and harassment in its ranks has been the subject of mounting scrutiny. A Pentagon report released last month found that cases of sexual assault at the US military academies increased 64 percent during the 2009-10 academic year. Earlier last year, a report to Congress disclosed an 11 percent increase in reports of sexual assaults throughout the services between 2008 and 2009.
When did the Navy know?
---