USS Enterprise video: An opportunity to reform the Pentagon?
Navy Capt. Owen Honors was removed from command of the USS Enterprise for participating in videos that included sexual innuendo and gay slurs. But some members of Congress see the scandal as a chance to change how the Pentagon responds to sexual crimes.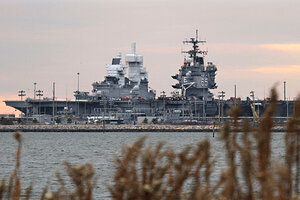 Steve Helber/AP
The Pentagon is likely to face stepped-up scrutiny from representatives pushing to leverage the Navy's lewd video scandal into change.
Rep. Niki Tsongas (D) of Massachusetts and several colleagues want closer examination of whether sexual assault offenders are adequately punished, as well as better training for a military leadership that she says is often unequipped to deal with matters of sexual harassment and assault.
The US Navy is unlikely to face hearings on Capitol Hill as a direct result of fallout from the USS Enterprise. But Congresswoman Tsongas says that she and other members of the House military personnel subcommittee will continue to examine who responds to such incidents and how successful current Pentagon programs are in curtailing them.
On the Enterprise, Capt. Owen Honors participated in lewd videos that were broadcast over the ship's closed-circuit television system from 2006 to 2007. The productions were replete with sexual innuendo and gay slurs. Honors was relieved of his command this week.
---