Pentagon seeks answers to why suicides doubled in National Guard and Reserve
Suicides in the National Guard and Reserve rose from 65 in 2009 to 145 last year. Pentagon officials suggest isolation and job woes could be culprits. Frequent deployments also factor in.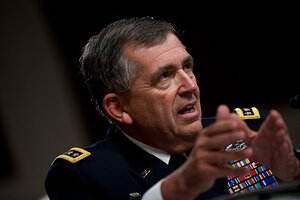 Newscom
There was a glimmer of heartening news out of the Pentagon Wednesday as the military released its most recent analysis of suicide figures, which found a "modest" decrease in suicides among active duty Army troops, from 162 in 2009 to 156 in 2010. It marks the first time in six years that suicides among active-duty soldiers suicides did not increase from the previous year.
But the Pentagon's latest report also revealed some particularly troubling trends among National Guard and US Army Reserve soldiers: Suicides within their ranks doubled in the past year, from 65 deaths in 2009 to 145 in 2010.
Pentagon officials offered up some suggestions as to why this might be the case. It is often "much more difficult" to get services such as counseling to these soldiers, who are often geographically isolated than their active-duty counterparts and have limited or reduced access to support services, Army Chief of Staff Gen. Peter Chiarelli said.
Meanwhile, with "real world" jobs to hold down in addition to their commitments to the US military, they are "more vulnerable" to the challenges a weak economy. At the same time, they often "lack the ready camaraderie" of soldiers serving on active duty, Chiarelli added in a briefing with reporters Wednesday.
---