Women serving in combat: US panel to recommend ban be lifted.
A US commission is expected to say that women should be allowed to fight on the front lines. The reality is that women are already serving in combat, says Army's Vice Chief of Staff.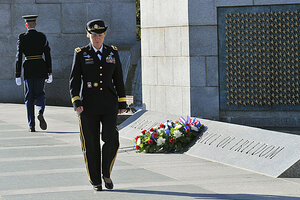 Karen Bleier/AFP Photo/Newscom/File
The Pentagon should allow women to serve in combat: That's the conclusion of a US government commission made up of current and retired officers and senior noncommissioned officers.
The commission, established by Congress and the White House, is expected to send its recommendation to Capitol Hill and the White House in March.
Because they are not permitted to serve on the front lines, women – who make up 14 percent of the US armed forces – are routinely falling further behind men in their military careers, according to the nonpartisan Military Leadership Diversity Commission, charged with assessing whether the Pentagon promotes leaders who reflect the ranks of troops who serve beneath them.
The question has long been whether women are capable of handling the mental and physical rigors of combat. The commission pointed to long-standing concerns that "women in combat impede mission effectiveness because they cannot handle the same equipment or tolerate the same physical stress as men."
Yet in many cases, senior military officials point out, women already are. Gen. Peter Chiarelli, the Army's Vice Chief of Staff, acknowledged this Wednesday when asked whether women should be allowed to serve in combat. "We have women in combat today," he said.
What's more, there are some indications that women may be more resilient than men, he added.
---