Stan McChrystal recounts US roadblocks to Taliban manhunt
Retired Gen. Stan McChrystal relayed story of how US special forces in Afghanistan finally got their man, despite an intelligence blackout from D.C. Now a Yale professor, he spoke this week about that Taliban episode, WikiLeaks, and information-sharing with the public.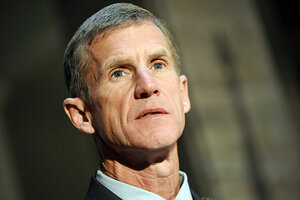 Barbara Sax/AFP/Getty Images/Newscom
The former commander of military forces in Afghanistan, retired Gen. Stanley McChrystal, this week related a striking behind-the-scenes account of the US Special Operations forces hunt for Taliban insurgents, revealing US government agency roadblocks that made his job more difficult.
McChrystal also offered his views on Wikileaks and the benefits of transparency. He was forced to resign his command in June after making impolitic comments to a Rolling Stone reporter.
Speaking at the Net-Centric Warfare Conference in Washington, the former general related the story of the US pursuit of a one-legged Taliban commander who operated in Afghanistan with considerable impunity, much to the consternation of Special Operations forces. The commander regularly traveled into and out of Afghanistan to visit his Taliban troops – what McChrystal referred to as a "battlefield circulation," US military parlance for visits by top officers to check on their soldiers in the field.
---