Pentagon divulges few details on 'don't ask, don't tell' repeal
Despite a comprehensive study on the subject, the Pentagon offers few specifics about how it will implement the 'don't ask, don't tell' repeal. The process could begin this month.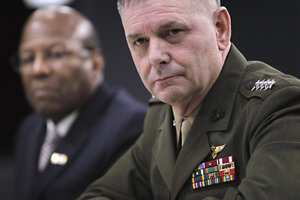 Pablo Martinez Monsivais / AP
As the Pentagon moves forward with its plans to implement the repeal of "don't ask, don't tell," US military officials say they are "pretty certain" that they will be able to begin training US troops on the new policy during the month of February.

For now, details about the implementation of the DADT repeal remain hard to come by – despite the fact that the Pentagon produced a comprehensive report in November about how, precisely, the plan allowing gay troops to serve openly in the military would be put in place.

In a recent briefing, senior military officials said only that implementation of the repeal can likely happen at some point in 2011.
---