US-Egyptian military ties: How much leverage does the Pentagon have?
The Egyptian military could play a pivotal role in resolving the crisis, but the Pentagon must weigh carefully how hard a line it wants to take with its Egyptian counterparts.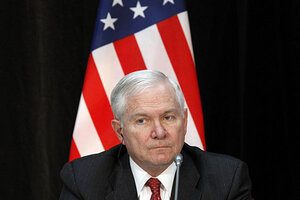 Chris Wattie/Reuters
As violence on the streets of Cairo has intensified, Egyptians and Americans alike have been closely monitoring the actions of the Egyptian military, thought by many to hold the trump card in determining just how quickly Egyptian President Hosni Mubarak leaves office.
At the Pentagon, the Egyptian military's potentially pivotal role is raising questions about the extent to which senior US military officials have influence on their Egyptian counterparts.
At stake are efforts to prevent widespread violence and preserve the strategic relationship between the countries that the close military ties represent.
The chairman of the Joint Chiefs of Staff, Adm. Mike Mullen, spoke by phone Tuesday with his Egyptian counterpart, Lt. Gen. Sami Enan, reiterating his "desire to see the situation return to calm," according to a senior US military official. Mullen also "expressed his confidence in the Egyptian military's ability to provide for their country's security, both internally and throughout the Suez Canal area."
---