Why Pentagon budget cuts might not be as impressive as they sound
At $553 billion, the Pentagon budget is $13 billion less than expected. But it is still up from last year, and many of the biggest planned cuts are in the uncertain future.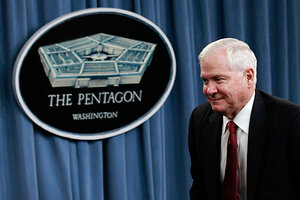 Alex Brandon/AP
As the Department of Defense rolled out its 2012 budget Monday, analysts were of one mind on this point: that the defense budget has been a public relations coup for the Pentagon and for Defense Secretary Robert Gates.
Much of the media coverage has emphasized that the Pentagon is grappling with tough defense budget cuts in the wake of America's growing debt. Mr. Gates, too, has portrayed himself as embracer of a prudent middle course.
"You've got two ends to this debate," Gates said during a January budget briefing with reporters. "Those who feel we've already gone too far, and those who feel like we haven't gone nearly far enough. My view is that we've got it about right."
But this fiscal narrative obscures important realities, according to analysts – including the reality that the defense budget is still growing. At $553 billion, the budget is some $13 billion less than the Pentagon expected for 2012, but still represents 3 percent growth over fiscal year 2011, and the Pentagon remains the largest single spender of federal dollars.
What's more, Mr. Gates has announced that the Pentagon was going to cut its future expenditures over the next five years by $78 billion. Yet this represents only about 3 percent of the overall defense budget.
---