US Army may have used PSYOP against senators. How is that different from PR?
According to Rolling Stone, a general asked a psychological operations specialist to help him get inside the heads of visiting senators. The military asks, was he trying to manipulate the Congressional delegation or just be a good host?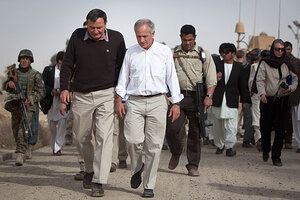 U.S. Marine Corps Sgt. Jesse Stence
Allegations in Rolling Stone this week – that a US military officer may have been ordered to manipulate a congressional delegation visiting Afghanistan, by collecting information on their backgrounds and voting records – is creating a stir inside and outside the defense community over the proper roles of "psychological operations" (PSYOP) specialists.
The problem, say some senior military officials, is the often-complex distinctions between PSYOP specialists and public affairs officers, who routinely prepare background dossiers on visiting officials. The distinctions are further blurred, they add, by an increasingly media-savvy American military eager to influence "hearts and minds" both abroad and at home.
Troops specializing in PSYOP have clear legal boundaries. Targeting Americans, for example, is strictly off limits for military PSYOPs specialists. "Public affairs is really informing and providing information to a broad audience, including the American public," explains a senior military official, who asked to speak on background because he is not authorized to talk to the press. "Psychological operations is purely about influencing the behavior of foreign target audiences."
Was the PSYOP-trained officer asked to dig into the background of the visiting congressional delegation "because of his training?" If so, he says, "That would definitely be a concern."
The American Civil Liberties Union condemned the military's alleged actions. The Defense Department's use of PSYOP to manipulate members of Congress and target Americans with military propaganda is a clear violation of the law, they said. The ACLU called on Congress to investigate.
---