US military assistance for foreign forces: a wise investment?
The US military dispenses billions of dollars to foreign forces each year. Pentagon says the investment boosts diplomatic leverage, citing the Egypt crisis. Critics say it does little to advance US goals.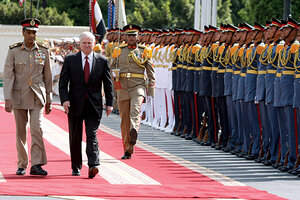 Jason Reed/Reuters/File
Each September, 130 troops from more than 90 countries begin nine months of military instruction at the US Army Command and General Staff College in Fort Leavenworth, Kan. They make field trips to economically blighted neighborhoods and to the Truman Presidential Library, to learn about the integration of the American military.
"What we're trying to get them to see from the outset is openness, accepting responsibility for government or institutional errors of the past," says Jim Fain, director of CGSC's international military student division. This training of foreign officers makes up an important portion of the military ASSISTANCE the Pentagon extends to American allies.
Yet this assistance is now under close scrutiny as US-trained militaries have been used by some of those allies to try to suppress democratic uprisings by their people.
Given that unpleasant reality, plus the fact that the Pentagon spends billions of dollars a year in foreign military aid, both the public and defense analysts are asking anew: What can the American military reasonably expect for giving such support?
"We have to look at whether [US military aid] even succeeds in giving us benefits," says Christopher Preble, author of "The Power Problem: How American Military Dominance Makes Us Less Safe, Less Prosperous, and Less Free." Less ambiguous, he adds, are the costs: "what we have paid – in tangible dollars, and in terms of our values."
---