As Harvard welcomes back ROTC, other elite schools may follow
At a ceremony with the secretary of the Navy, Harvard welcomes ROTC back to its campus, ending a Vietnam-era ban. Columbia, Brown, and other top schools may soon do the same.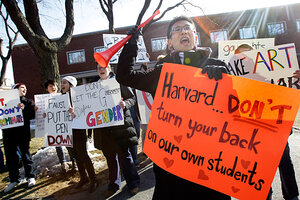 Elise Amendola/AP
Elite universities like to compete, and Harvard Friday crossed the finish line as the first elite school to welcome back ROTC to its campus since Congress ended the "don't ask, don't tell" ban on gays serving openly in the military in December.
But watch out Harvard: others may not be far behind.
The bans on the Reserve Officers Training Corps at Harvard and other elite schools date back to the Vietnam era. Most of the schools that still ban ROTC – including Brown, Columbia, Stanford, Yale, and the University of Chicago – have flirted with the idea of getting rid of these policies for years. But with the repeal of DADT, several have shown a reinvigorated willingness to reconsider their policies.
At Columbia in New York Friday, a student-faculty task force recommended that the Columbia University Senate consider bringing back ROTC.
---