Pressure mounts for no-fly zone in Libya
As Libyan rebels encounter rough going, the calls for attacking Muammar Qaddafi's air force are growing in the United States. The Pentagon and the White House resist the idea.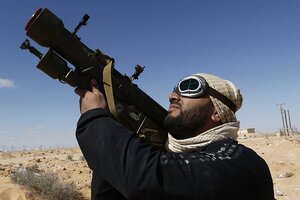 Hussein Malla/AP
As Libyan militiamen encounter rough going against the better-armed forces of Muammar Qaddafi, the calls for attacking Qaddafi's air force are growing in the United States.
On Sunday, three prominent US senators – John Kerry, John McCain, and Mitch McConnell – expressed support for a no-fly zone to prevent Libyan jets and helicopters from attacking civilians and the anti-Qaddafi rebel fighters.
Speaking on CBS's "Face the Nation," Sen. Kerry, who chairs the Foreign Relations Committee, ruled out the use of ground forces to topple the Libyan dictator.
But he suggested that "one could crater the airports and the runways and leave them incapable of using them for a period of time."
Speaking on ABC News' "This Week," Sen. McCain said, "We can't risk allowing Qaddafi to massacre people from the air, both by helicopter and fixed-wing [aircraft]."
---