Exclusive: 1 in 5 Air Force women victim of sexual assault, survey finds
The Air Force is set to release a comprehensive survey about sexual assault, which could become a model as the Pentagon begins to address sexual assault within its ranks more openly.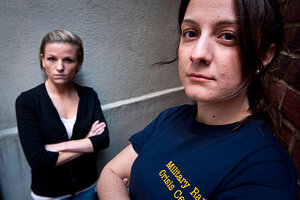 Cliff Owen/AP/File
In a quiet push to more honestly address sexual crimes within the military, the Air Force will release a survey later this week that finds 1 in 5 women say they have been sexually assaulted since joining the service.
One of the most comprehensive studies undertaken by the US military to assess sexual assaults within its ranks, it could become a model for how the military as a whole begins to address the problem, defense officials say.
While the data suggest the sexual-assault rate in the Air Force is roughly equal to what it is in the broader civilian population, the survey – obtained exclusively by the Monitor – points to unique challenges presented by the culture of the service. The vast majority of crimes identified in the survey are committed by male airmen on female airmen, and nearly half of rape victims said they did not report the crime because they "did not want to cause trouble in their unit."
The results, slated to be published on the Air Force website with little fanfare, mark an important step forward for not only the Air Force but the whole military, experts say. For the first time, top officials will be forced to acknowledge and confront the scope of the problem.
"If we're ever going to get to the point where we know how much progress we're making or not making, our leadership has to find out the extent of the problem," says Charlene Bradley, the Air Force's assistant deputy for force management integration. Air Force leadership was "very concerned" when they reviewed the survey's findings, she adds. "They were concerned before, but they were very concerned when they saw this."
The results have prompted the formation of an Air Force task force, which was launched two months ago in the wake of the findings.
About the survey
---