At war in Libya: How long will it last? Will Qaddafi be gone?
With US bombs and missiles hitting Libyan targets, lawmakers and other observers want to know how long the fighting will continue and whether Muammar Qaddafi will be forced from power.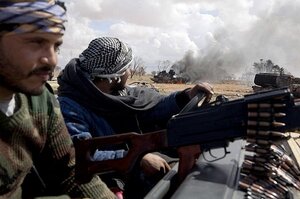 Newscom
As the US-led attack on Libyan targets approached its third day, lawmakers and other observers began to weigh in on the wisdom and timing of the attempt to stop Muammar Qaddafi's army from attacking civilians and decimating rebel forces.
On Sunday talk shows, the comments ranged from "too little, too late" to concerns about what any endgame might be as the US engages in a third war in Muslim countries.
Senator John McCain (R) says President Obama "waited too long" before taking military action against Qaddafi. And he suggested that the delay means the job will be harder.
"If we had taken this step a couple of weeks ago, a no-fly zone would probably have been enough," Sen. McCain said on CNN's State of the Union. "Now, a no-fly zone is not enough. There needs to be other efforts made."
Senator Richard Lugar, senior Republican on the Foreign Relations Committee, wonders "who it is in Libya that we're trying to support."
"Obviously, the people who are against Qaddafi, but who?" Sen. Lugar asked on CBS' Face the Nation. "In eastern Libya, for example, a huge number of people went off to help the Iraqis against the United States in a war that still is winding down."
---