Allied strikes halt Qaddafi forces. But what is success in Libya?
The initial coalition air attacks have halted the pro-Qaddafi forces' march on Benghazi, a US general says, but the goals and parameters of the Libya intervention are still unclear.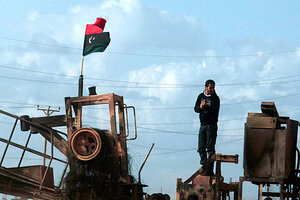 Suhaib Salem/Reuters
The initial air attacks against Libyan leader Muammar Qaddafi's forces have "succeeded" in stopping their advancement towards the key rebel-held city of Benghazi, the US mission's top commander said Monday.
What's more, pro-Qaddafi ground forces that were once in the vicinity of Benghazi, in eastern Libya, "now possess little will" to continue to fight, said Gen. Carter Ham, head of US Africa Command and the US-led joint mission's current commander, at a briefing with Pentagon reporters.
This represents some measure of psychological victory for which top Pentagon officials were hoping when the operation began: that many of Mr. Qaddafi's forces would stop fighting or abandon their commander-in-chief. Yet Qaddafi's troops have proven organized and determined in the past, and military officials say they are carefully monitoring developments on the ground even as operations continue.
---