American F-15 crashes in Libya, a reminder of mission's potential costs
Two Britain-based F-15 pilots are safe after an 'equipment malfunction' causes their fighter jet to crash in northeast Libya while conducting a night-time strike on Qaddafi-regime air defenses.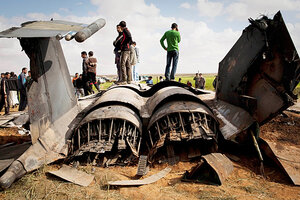 Anja Niedringhaus/AP
Two American pilots were forced to eject from their F-15 fighter jet Monday night after the aircraft experienced "equipment malfunction" over northeast Libya, according to a statement released Tuesday by the US military task force in charge of Libyan operations.
The military dispatched two Marine Osprey tilt-rotor aircraft from the amphibious assault ship USS Kearsarge, which is currently about 100 miles off the coast of Libya, to pick up one of the downed pilots. The other ejected and "was recovered by the people of Libya," said Adm. Samuel J. Locklear III, commander of US Naval Forces in Europe and Africa. "He was treated with dignity and respect, and is now in the care of the United States."
Both sustained only minor injuries, according to Admiral Locklear.
The jet, based out of Lakenheath, England, went down over eastern Libya Monday at 10:30 p.m. "while conducting a strike mission against Qaddafi regime air defense systems," according to a statement released by the US military's Africa Command.
The implications of the downed US fighter jet go beyond the mechanical, however. "The crash demonstrates the real and potential costs of the operation," says Richard Fontaine, an analyst with the Center for a New American Security.
---