Obama's dilemma: Is Libya mission a success if Qaddafi stays?
President Obama wants Qaddafi out, but doesn't want to use military operations to do it. How that tension plays out could determine the success of the mission.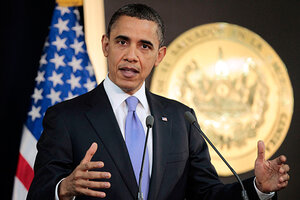 Pablo Martinez Monsivais/AP
As President Obama prepared to address the nation Monday night about US operations in Libya, some defense analysts are arguing that there remains a fundamental tension in America's goals on the ground.
President Obama has said that it is time for Libyan leader Muammar Qaddafi "to step down from power and leave." Yet administration officials have also said that they can envision a scenario in which operations end, and yet Mr. Qaddafi remains in power. This raises the question of whether an operation that does not result in Mr. Qaddafi's ouster could be considered a success, expert say.
"I cannot conceive of any operation or campaign that doesn't achieve that goal being a success," says Tom Donnelley, director of the Center for Defense Studies at the American Enterprise Institute.
---