Pentagon: Libyan rebels desperately need help, but don't look to US
Libyan opposition forces need training and organization to oust Muammar Qaddafi, but the US military shouldn't be involved, Defense Secretary Robert Gates told Congress Thursday.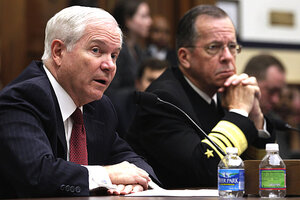 Carolyn Kaster / AP
Libyan rebels are disorganized, on the defensive, and in desperate need of training, Secretary of Defense Robert Gates told Congress on Thursday.
But none of that is likely to change the Pentagon's operations or the White House's political calculus in the weeks ahead, he added. The US military's mission remains "much more limited" than America's stated political objective – namely, ousting Libyan leader Muammar Qaddafi.
The US military will not provide any troops on the ground in Libya, either to aid operations or to train the rebels, Secretary Gates assured lawmakers. "Not as long as I'm in this job."
That said, he conceded that rebels could use some help if they hope to overthrow Col. Qaddafi. "What the opposition needs is some training, some command and control, and some organization," Gates said. "It's pretty much a pickup ballgame at this point."
But that training will not come from US troops, Gates stressed repeatedly in his testimony before the House and Senate Armed Services Committees. NATO allies could take this role, he suggested. "Frankly, there are many countries that can do that," he said.
In the wake of calls from some lawmakers to arm the rebels, he noted that the opposition already has "substantial numbers" of small arms, including AK-47s, thanks to raids on military depots. If the NATO coalition decides to give rebels any more sophisticated weapons, however, they would need on-the-ground training in how to use them, too.
---