Pentagon: Central America 'deadliest' non-war zone in the world
Thousands die each year in a struggle between the US 'War on Drugs' and the drug cartels, who are financed and armed by American narcotics consumers, Pentagon officials testified last week.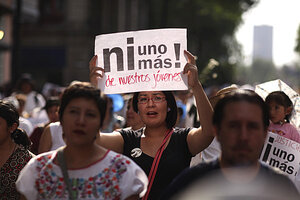 Alexandre Meneghini / AP
The drug war has grown to rival the conflicts in Iraq and Afghanistan, as the scale of violence, spending, and weapons in Mexico and Central America have made it one of the most dangerous areas in the world, say US military officials.
Even as the Pentagon struggles with how best to help the Mexican government, US drug users are funding the cartels, senior US commanders told the Senate Armed Services Committee, enabling narcotics gangs to build mini-submarines that they use to transport millions of dollars worth of drugs with every trip.
American consumers of narcotics drive the drug trade, and US weapons arm narco-criminals, says Andres Martinez, a fellow with the New America Foundation think tank.
US drug users contribute roughly $40 billion a year to Latin American cartels, Admiral James Winnefeld, head of the US Northern Command, in charge of US homeland security, added in testimony. The amount of US money that goes to Mexican cartels is so considerable that "if you ranked it among the world's militaries, it would come into the top ten."
---