Military interrogators: Waterboarding didn't yield tips that led to bin Laden
Several former military interrogators refute assertions that waterboarding and other 'enhanced' methods provided intelligence that led the US to bin Laden. Some lament lost opportunity to grill Al Qaeda's leader.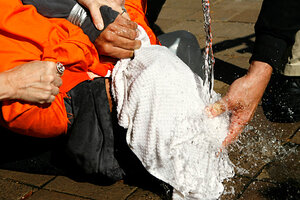 Kevin Lamarque/Reuters/File
A group of former US military interrogators are pushing back against the notion that Bush administration "enhanced interrogation techniques" – which many consider to be torture – led to the intelligence that helped US officials locate Al Qaeda leader Osama bin Laden.
Some US military intelligence officials also lament that bin Laden was not taken alive – and privately wonder whether concerns about the political "headaches" involved in trying detainees may have led the Obama administration to favor killing rather than capturing the architect of 9/11.
The opportunity to glean valuable intelligence from the leader of a powerful terrorist organization was lost, says retired Army Col. Stuart Herrington, a military intelligence specialist who interrogated generals under the command of Saddam Hussein and evaluated US detention operations at Guantánamo.
---