Stealth helicopter: Did SEALs have a secret weapon in bin Laden attack?
Stealth helicopter rumors erupt as experts say the helicopter scuttled by SEALs during the attack on Osama bin Laden doesn't look like any known chopper in the US fleet.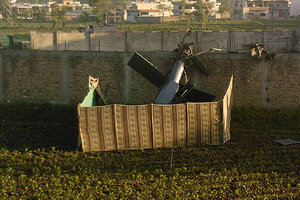 Mohammad Zubair/AP
Military aviation experts are now speculating that the mission that killed Osama bin Laden could owe part of its success to what appears to be a secret stealth helicopter, one of which was damaged and left behind in Pakistan.
Though US forces attempted to destroy the helicopter that was downed inside the compound's courtyard, its tail remained relatively intact on the other side of the wall. As pictures of the wreckage have emerged, aviation experts say the helicopter appears to share characteristics of both a Black Hawk helicopter and a stealth fighter jet.
The US was not known to have a stealth helicopter in its fleet, but if the helicopter used Sunday did indeed have stealth characteristics, it might have helped US forces to approach Mr. bin Laden's compound in Abbottabad, Pakistan, undetected.
"It really didn't look like a traditional Black Hawk," a retired special operations aviator told the Army Times. The helicopter had "those distinctive edges and angles" seen on F-117 stealth fighters.
---