What US cybersecurity needs: a few more good guys
In high-tech America, cybersecurity specialists trained for high-stakes fights with hackers are in short supply.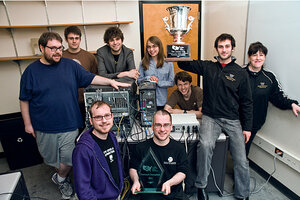 Courtesy of University of Washington
America's next generation of cyberdefenders did battle recently at the National Collegiate Cyber Defense Competition finals in San Antonio, the Super Bowl of college computer-security tournaments.
The collegians' assignment: to defend a business computer network with digital defenses as porous as Swiss cheese from a "red team" of professional hackers from the military and federal agencies.
After 17 grueling hours, computer science graduate student Alexei Czeskis and his "cyber swat team" buddies from the University of Washington emerged victorious, slamming their digital doors on the red team's top guns.
The truth is, America could use several thousand more cyberwarriors just like Mr. Czeskis and his teammates to address an embarrassing national computer glitch: The tech-savvy nation that invented the single-chip microprocessor is weak on cyberdefenses and lacks the "human capital" to protect itself.
What is at risk from the cyberattackers? Anything from corporate crown jewels – critical proprietary data – that can give the owner a competitive advantage to classified data such as weapons designs or national security procedures. In 2008, a foreign intelligence service infiltrated thousands of military computers belonging to the US Central Command – the "worst breach of US military computers in history," William Lynn, deputy secretary of defense, admitted recently. Just last year, hackers seeking trade secrets hit Google and the networks of dozens of other US companies.
---