Facing a firestorm, Navy reverses course on performing same-sex marriages
The chief of Navy chaplains had said same-sex marriages could be performed in military chapels as soon as 'don't ask, don't tell' ends. But a sharply critical response has put that on hold.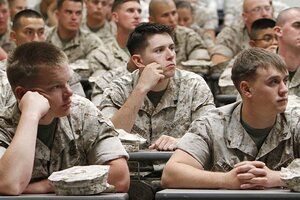 Lenny Ignelzi/AP
Mix military service, religious practice, and gay marriage and you're sure to come up with a combustible political situation.
The US Navy has just found this out with its on-again, off-again attempt to allow chaplains to perform same-sex marriage ceremonies on naval and Marine Corps bases.
In a memo last month, the chief of Navy chaplains, Rear Adm. Mark Tidd, said that same-sex marriages would be permitted at chapels in states where gay marriages are recognized, although not until the military's "don't ask, don't tell" ban on gay members serving openly had officially ended.
But when Tidd's memo – sent as part of the Navy's training in preparation for the expected end of don't ask, don't tell later this year – became known, members of Congress and conservative organizations reacted with swift and sharp ire.
Tidd quickly backtracked, issuing a second memo saying that his earlier decision had been "suspended until further notice pending additional legal and policy review and interdepartmental coordination." As critics pointed out, neither the US Army nor the US Air Force had made similar decisions, nor had there been any overall Defense Department guidance on same-sex marriage or civil unions.
---