SEAL Team Six: Is their safety being compromised?
Members of SEAL Team Six, the Navy squad that killed Osama bin Laden, are concerned that leaks about the raid will compromise their anonymity and threaten the safety of their families, Defense Secretary Gates said Thursday.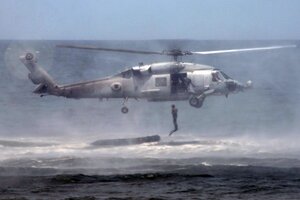 n39/ZUMA Press/Newscom
Members of the Navy SEAL team whose daring mission ended the life of Al Qaeda leader Osama bin Laden are concerned for the safety of their families. As details of the raid continue to leak out, the US military is exploring ways to "pump up the security" for SEAL Team Six, Defense Secretary Robert Gates said Thursday.
"There is an awareness that the threat of retaliation is increased because of the action against bin Laden," Mr. Gates said during a town hall meeting at Camp Lejeune, a Marine Corps base in North Carolina.
When Gates met with SEAL Team Six last week, he said, team members expressed concern for their continued anonymity and their safety, "particularly with respect to their families."
Before the May 1 strike, only a few key players knew of it. President Obama said on "60 Minutes" that most White House staffers, and even his wife, were kept in the dark. Gates said he and the other officials who gathered in the White House situation room to watch the raid agreed they would "not release any operational details" about the hunt for bin Laden.
---