SEAL Team Six: Pentagon ramps up war of words over White House leaks
Defense Secretary Robert Gates expresses dismay that the Situation Room pact not to talk about the details of the SEAL Team Six operation 'lasted about 15 hours.' Adm. Mike Mullen says further leaks could jeopardize the effectiveness of future special ops.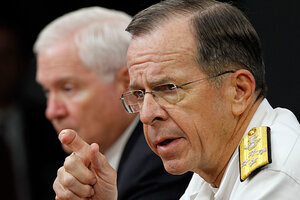 Alex Brandon/AP
The public rift between the Pentagon and the White House over the leaking of details surrounding the Navy SEAL raid of Osama bin Laden's Pakistan compound intensified Wednesday, as senior defense officials warned of their worries about the safety of the highly secretive US military commando team.
"My concern is that there were too many people in too many places talking too much about this operation," Defense Secretary Robert Gates said in a briefing with Pentagon reporters. "And we had reached an agreement that we would not talk about operational details."
This agreement was one he referred to during a town hall meeting at Camp Lejeune, N.C., last week. "Frankly, a week ago Sunday, in the Situation Room, we all agreed that we would not release any operational details from the effort to take out bin Laden," Mr. Gates said.
---