5 US soldiers killed in Iraq. What does it mean for the withdrawal?
The attack, the deadliest on US troops in Iraq in more than two years, comes months before US forces are slated to exit. The Pentagon has signaled time is short for Iraq to request that troops remain.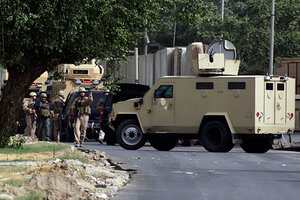 Khalid Mohammed/AP
A rocket attack that killed five American soldiers in eastern Baghdad Monday inflicted the single worst death toll on US troops in Iraq in more than two years and renewed discussion of plans for the withdrawal of the remainder of US forces by year's end.
With some 47,000 US troops slated to leave the country by then, the attack could provide a new impetus for the Pentagon to push for an extension of the US military presence in the country.
US military officials have made it clear that while security on the ground in Iraq has improved in recent years, "there is still much work to be done and still plenty of extremists aided by states and organizations who are bent on pulling Iraq back into violence," the chairman of the Joint Chiefs of Staff, Admiral Mike Mullen, said during a visit to Iraq in April.
US troops are currently scheduled to leave by Dec. 31 under a security agreement with Iraqi Prime Minister Nouri al-Maliki. When President Obama took office in January 2009, there were 144,000 US military personnel in the country.
The Iraqi government could request US troops to stay beyond 2011, but no such request has yet been made.
"Should the Iraqi government desire to discuss the potential for some US troops to stay, I am certain my government would welcome the dialogue," Admiral Mullen said during his April 22 visit to Iraq.
---