Report: US aid could be destabilizing Afghanistan in the long term
A comprehensive congressional report finds that billions of dollars of US aid could be feeding corruption and establishing programs that will collapse when the US leaves.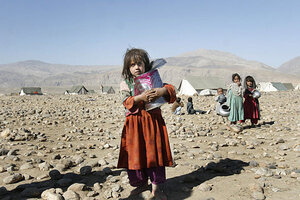 Rahmat Gul/AP/File
Much of the $19 billion in foreign aid that the United States has pumped into Afghanistan in the past decade may be fueling development on the ground in the short term, but is unlikely to produce change that will last once US troops depart, according to a new congressional report.
The Senate Foreign Relations Committee calls the report "the most comprehensive congressional investigation to date of US foreign assistance to Afghanistan." It warns that while the US currently spends more on aid to Afghanistan than to any other country, that money is often not having a positive impact – and in many cases, may be contributing to corruption and to future economic woes for the poverty-stricken country.
The problem, the report points out, is that aid programs aimed to stabilize the country – and the great sums of money that accompany them – are at the heart of the US military's counterinsurgency strategy in Afghanistan. "Our strategy assumes that short-term aid promotes stability in counterinsurgency operations and 'wins hearts and minds,' " according to the study. "The evidence from Afghanistan supporting these assumptions," however, "is limited."
Limited, it turns out, may be a bit of an understatement. The report goes on to warn that the large influx of money into the country may drive inflationary salaries (as much as 10 times the salary for an average Afghan worker) and pervasive corruption in the short term. In the long term, it may contribute to an economic collapse for Afghanistan if the country cannot afford to continue the programs that the US and other countries have started after international troops leave.
---