Withdrawal from Afghanistan: Three options weighed by the White House
How many US troops are coming home from Afghanistan this year? On the eve of Obama's speech on his promised July start to the drawdown of American forces, here are three scenarios.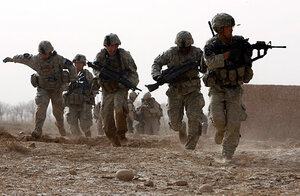 Pier Paolo Cito/AP/File
President Obama's Wednesday speech on his promised July drawdown of the 100,000 US troops in Afghanistan is drafted. But on circulating copies, there are still blank spaces where the final troop figures will go.
Whether that's because the White House is still in the midst of internal debate – or whether it's a fear of leaks – remains the subject of speculation, but guessing precisely what those figures will be was insider Washington's favorite parlor game Tuesday.
Here are some possible scenarios – small, medium, and large troop withdrawals – being weighed by the White House for the near and long-term, along with their risks and rewards.
Small
This is certainly the Pentagon's preference. It would involve continuing to keep fairly robust levels of American forces in Afghanistan through 2014, likely as many as 60,000 soldiers, according to a plan that Seth Jones, an analyst for the RAND Corporation and until earlier this year an adviser to special operations forces in Afghanistan, submitted in testimony before the Senate Foreign Relations Committee last month.
---