In visit to Afghanistan and Iraq, Panetta fixes his gaze on the exit sign
Former CIA chief Leon Panetta, now secretary of Defense, is assessing the US military engagements in Iraq and Afghanistan and how to bring them to a successful end.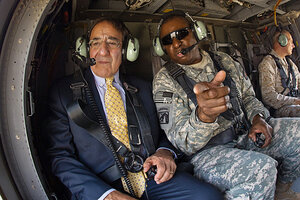 Paul J. Richards/AP
After being sworn in as the nation's new secretary of Defense, Leon Panetta's first order of business was to head for Iraq and Afghanistan to assess two military engagements in varying stages of winding down.
In interviews, Mr. Panetta, the former director of central intelligence, has begun to paint a portrait of how he sees the wars in those countries progressing, and of the pressures that he believes he must now exert as Defense secretary to bring them to a successful conclusion.
On the ground, he has been meeting with US troops and getting briefings from the top military officials, most notably Gen. David Petraeus, who is preparing to step down as the commander of forces in Afghanistan to assume Mr. Panetta's old job at the CIA.
Panetta has already taken on what his predecessor and the commander in chief describe as the most wrenching duty their jobs entail: signing condolence letters to the families of US troops who have been killed in battle.
---