You hack, we shoot: Pentagon discusses armed counterstrikes to cyberattacks
Lawmakers and some Pentagon officials argue that the US should shift cyberdefense from 'How to build the next best firewall' to an offensive message: Those who attack US computers risk 'land-based attack'.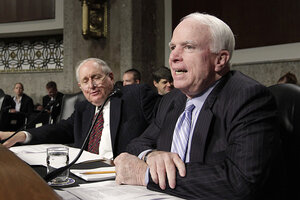 J. Scott Applewhite / AP / File
Lawmakers on Capitol Hill have delivered a stark warning to the Pentagon: its failure to address key questions surrounding how the United States military would respond to a cyberattack – and what precisely constitutes an act of war in cyberspace, for that matter – remains a "significant gap" in US national security policy.
Senior Pentagon officials for their part are griping, too, that the current Defense Department approach to cyberwarfare is "way too predictable." Gen. James Cartwright, vice chairman of the Joint Chiefs of Staff, recently lamented that, in cyberspace, "there is no penalty for attacking [the US] right now. We've got to figure out a way to change that."
To that end, some senior defense officials are increasingly pushing for the US to retaliate against cyber-sieges with counterstrikes – that could ultimately include launching a "land-based attack" on the perpetrator.
These signs point to a growing challenge within the Pentagon to the assumption that what happens in cyberspace stays in cyberspace, say analysts.
An armed counterstrike to a cyberattack "sounds so provocative," says Kristin Lord, director of studies at the Center for a New American Security (CNAS).
But it may also be stabilizing, she argues. "What the Pentagon and White House are trying to do is say that, in a circumstance when we have been attacked in a way that inflicts damage equivalent to an armed attack, we reserve the right to respond in kind," explains Dr. Lord, who has co-authored a recent CNAS report on "America's Cyber Future."
---