Afghanistan helicopter crash: Why Army has used Chinook for half a century
The rugged CH-47 Chinook helicopter that crashed in Afghanistan flies fast and has double the lift capacity of its Vietnam-era forebears. But it is loud, and vulnerable, while preparing to land.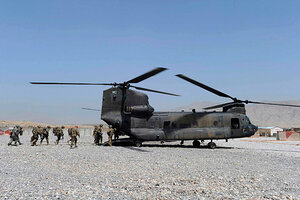 Shah Marai/Reuters/File
The CH-47 Chinook helicopter apparently shot down in Afghanistan by Taliban insurgents over the weekend is one of the oldest aircraft designs in the US military inventory. The Army received its first models in 1962, and the twin-rotor heavy-lift chopper saw action throughout the Vietnam War.
But age in this case does not necessarily equate to vulnerability. Like its fixed-wing cousin, the C-130 transport airlifter, the CH-47 has been updated numerous times over the decades, and remains in service because it is rugged, adaptable, and fills an important mission niche.
CH-47D models currently in service can haul up to 19,500 pounds of cargo, for instance. That's double the lift capacity of Vietnam-era "A" versions. Today's Chinook can hold two Humvees, or a Humvee and a howitzer and gun crew, or upwards of 33 fully-equipped soldiers.
---