In Afghanistan war, Navy SEALs and special ops playing more central role
Navy SEALs and special operations forces are not being withdrawn from Afghanistan war at the same rate as other forces, meaning their duties in the region will only grow. With the Aug. 6 helicopter shoot-down, the SEALs lost 1 percent of their operational population.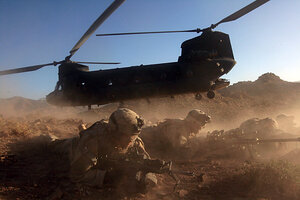 Rodrigo Abd/AP/File
Special operations troops such as the Navy SEALs killed in the tragic Aug. 6 helicopter crash in Afghanistan are increasingly at the heart of the US military's Afghan effort.
As the raid that got Osama bin Laden showed, special ops units have carried out some of the most spectacular and successful operations in the region. Seventy-eight percent of the suspected Taliban members detained in the region were caught in special ops raids, according to congressional testimony from US officials.
Reportedly, about 1 in 10 of the 100,000 US troops in the country are part of special operation units. They are not being withdrawn at the same rate as other units, meaning that their percentage of the overall force will rise.
As it happens, the leadership of this part of the US military changed on Monday, with Adm. William McRaven taking over from outgoing US Special Operations Command commander Adm. Eric Olson at an official ceremony at MacDill Air Force Base in Tampa, Fla.
In remarks at the ceremony, Secretary of Defense Leon Panetta noted that the deaths of 25 troops have sent the special operations community, and the nation at large, into mourning.
---