Will US exit strategy work in Afghanistan? Brutal valley emerges as test.
US forces have had to return to a key outpost they left to Afghan forces in March. Now, the US commander there is trying to forge a new partnership to bring the Afghans up to speed.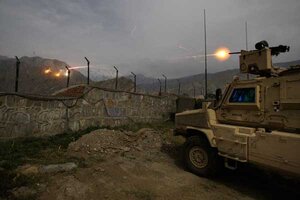 David Guttenfelder/AP/File
Nestled in a lush but mean valley on the banks of the Pech River, Camp Blessing was no longer the sort of place, US commanders decided in February, that warranted the bloodshed of American soldiers.
Instead, the US war effort would benefit from focusing its limited resources on population centers, they concluded, and away from the Pech's brutal terrain and rather xenophobic citizenry, ready and more than willing to skillfully take up arms against outsiders.
Better, they concluded, to leave this sparsely settled region – where Afghan fighters mustered to make the first successful stand against Soviet occupation – to the Afghan Army.
So soldiers from the 101st Airborne Division towed away the modern toilet trailers and stripped Camp Blessing of its amenities – air-conditioning units, flat-screen monitors, and the covered plywood porch where senior US troops convened to smoke cigars and discuss the news of the day.
In March, they rechristened the base "Nangalam" and turned it over to Afghan forces.
Today, however, US soldiers are back. The conditions at the once built-up outpost are now spartan. Troops bathe with baby wipes and bottled water and sleep on the floors of buildings that, they discovered upon their return in late July, were littered with human feces.
Insurgents had advanced so steadily since March that the Afghan Army could lose the base itself, say a new crop of US commanders.
---