Iraq ledger: War by the numbers
Reckoning the costs of war in Iraq will take years. Using federal government and other sources, analysts at the Center for American Progress have calculated an 'Iraq War Ledger.'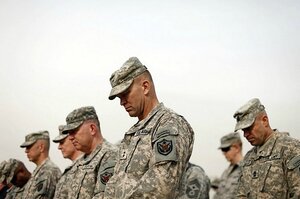 Pablo Martinez Monsivais/Reuters
Reckoning the costs of war in Iraq will take years, especially the impact on US prestige and power in the world. Historians, political scientists, and economists will write doctoral dissertations on the subject, and some will devote careers to calculating and analyzing the data and each others' conclusions – as continues to be the case with the Vietnam War.
Analysts Matthew Duss and Peter Juul of the Center for American Progress have taken a first cut at calculating the costs of the American war in Iraq.
The center is a progressive, nonprofit think tank and advocacy organization in Washington, founded in 2003 by former Clinton administration chief of staff John Podesta.
The organization's inclinations are clearly left-of-center, but the figures in its "Iraq War Ledger" are taken from nonpartisan sources, including the Congressional Research Service, icasualties.org, the Defense Department, the Special Inspector General for Iraq Reconstruction, the Centers for Disease Control, and the United Nations High Commissioner for Refugees (UNHCR).
---