US weapons sales to Iraq: Still a good idea as violence escalates?
The 150 uniformed US troops still in Iraq are there to facilitate weapons sales and train Iraqi forces to use the armaments. But as violence rises in Iraq since the US military pullout, some analysts see greater risks that US-supplied weapons may be misused.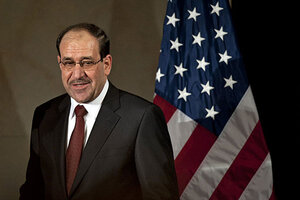 Cliff Owen/AP
With the spike in violence in Iraq since the US troop pullout two weeks ago, concern is rising about US weapons sales to Iraq's government and whether a buildup of armaments could even serve to fuel sectarian tension there.
The apparent effort of Prime Minister Nouri al-Maliki to consolidate power since the US withdrawal is worrisome to some defense analysts in the US, who say it's conceivable that he could use weapons purchased from the US against his political enemies and the people of Iraq.
A top US military official still on the ground in Iraq, under the auspices of the State Department, discounts such concerns, saying safeguards are in place to prevent such an outcome – and that all military sales include monitoring "to make sure the [Iraqi] government isn't in violation of human rights."
A job of the 150 uniformed US troops still in Iraq is something akin to that of salesmen, helping Iraqi officials buy US-made weapons and tanks for their security forces. That mission could change, though, if the violence were to throw Iraq into crisis.
"If things went really badly in one direction, there's a possibility that the US could decide, 'We're not going to arm and train a government that's doing certain things,' " says Marisa Cochrane Sullivan, deputy director of the Institute for the Study of War in Washington. "That's a big policy question."
---