How video of Marines urinating on Taliban could put US forces in danger
A video that appears to show Marines urinating on Taliban soldiers comes just as the US is trying to reach out to the Taliban. Defense Secretary Leon Panetta called the actions 'utterly deplorable.'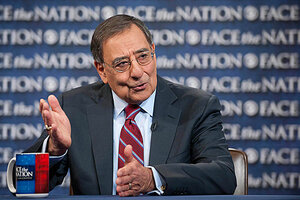 Chris Usher/Reuters
The Pentagon is in damage-control mode over the allegations that US Marines may have urinated on dead Taliban soldiers.
The uproar over an online video that appears to show the incident comes at a particularly difficult political juncture for the Obama administration, which has cautiously been talking up the planned resumption of peace discussions with the Taliban.
The US Marine Corps promptly promised an investigation, and condemned the alleged actions in advance. "While we have not yet verified the origin or authenticity of this video, the actions portrayed are not consistent with our core values and are not indicative of the character of the Marines in our Corps," read a statement released Wednesday.
Secretary of Defense Leon Panetta issued an even sharper rebuke. "I have seen the footage, and I find the behavior depicted in it utterly deplorable. I condemn it in the strongest possible terms," he said in a statement released Thursday. "Those found to have engaged in such conduct will be held accountable to the fullest extent."
Despite the initial muted response among top Afghan officials, the episode does not bode well for the administration's resumption of talks with the Taliban, which could be set back by fresh allegations of abuse of Afghans, even those who are deceased, at the hands of the US military.
---