Urination video: Outcry aside, history suggests minimal punishment for Marines (+video)
Experts say that despite the strong language from the Pentagon over the video showing Marines urinating on dead Taliban, the military's record for prosecuting similar crimes has been lackluster.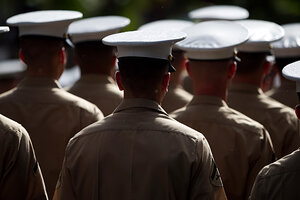 Photo illustration: Marco Garcia/AP/File
The language of rebuke has been robust among top US military officials in the wake of a web video depicting Marines urinating on dead Taliban fighters.
The Marines, for their part, have already promised two separate investigations into the incident, and Defense Secretary Leon Panetta has vowed that, "those found to have engaged in such conduct will be held accountable to the fullest extent."
But military law experts point out that despite the strong language coming from the Pentagon's top brass, the US military's track record in prosecuting those accused of crimes against enemy forces in the wars in Iraq and Afghanistan has been lackluster.
That's because there is a "disconnect" between military law and the policies that the Pentagon is pursuing as it wages war in Afghanistan and, earlier, Iraq, says Christopher Swift, a fellow at the University of Virginia's Center for National Security Law.
Though top US military officials recognize the often-devastating impact on public perception that comes with these charges, they are often difficult to prosecute, Dr. Swift adds.
"When you look at the military law side," he says, "there's a very high threshold for actually proving that these soldiers and Marines were doing what they were doing with deliberately bad intentions."
The trial this week against a US Marine facing nine counts of manslaughter for US military actions in Haditha, Iraq, in 2005 that killed two dozen Iraqis, including unarmed women and children, offers one window, for example, into the Pentagon's prosecutorial process.
---