Daring special forces raid shows Somali pirates are on the run
The SEAL Team Six rescue of an American hostage shows US special forces are tightening the noose on increasingly desperate Somali pirate groups, military analysts say.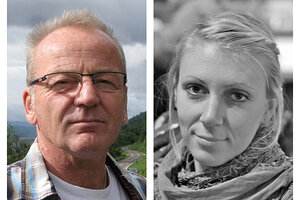 Danish Refugee Council/AP
The SEAL Team Six raid on a pirate compound to rescue an American hostage early Wednesday morning is one signal that the US military is tightening the noose on marauding criminal gangs who kidnap civilians for ransom.
The abduction of Jessica Buchanan and her Danish colleague Poul Hagen, who were snatched from a car in late October, is a sign, too, of the growing desperation of pirate groups increasingly feeling the pinch of stepped-up maritime operations, according to military analysts.
It is particularly notable, analysts point out, that the self-proclaimed pirates seized their hostages on land, rather than at sea.
"I think they're looking to expand their markets and looking for any vulnerable targets that they can use to do that," says Rick "Ozzie" Nelson, Director of the Homeland Security and Counterterrorism Program at the Center for Strategic and International Studies.
That's because preemptive strikes by naval forces have helped to reduce by half the number of successful strikes by Somali pirates, according to the International Maritime Bureau (IMB), which monitors pirate attacks.
Indeed, while the number of attempted hijackings increased from 237 in 2011 to 219 in 2010, the number of hijackings that were actually successful among Somali pirates decreased from 49 in 2010 to 28 last year.
"The overall figures for Somali piracy could have been a lot higher if it were not for the continued efforts of international naval forces patrolling and responding to the threat," according to an IMB report.
---