SEAL Team 6 rescue in Somalia frees two from pirates' lair (+video)
SEAL Team 6 members raided a compound in Somalia early Wednesday to free two hostages held by pirates since October. The raid signals that US 'will not tolerate' abductions of Americans, Obama said.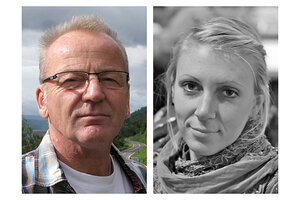 Danish Refugee Council/AP
In the early morning hours Wednesday, US Special Operations forces raided a Somali compound and rescued an American and a Dane who had been held hostage by pirates since October.
The hostages had been abducted at gunpoint near the semiautonomous region of Galcayo, Somalia.
While pirates ordinarily raid ships, in this case they had taken the unusual step of conducting a kidnapping on land, subsequently holding their two hostages in an outdoor camp.
US officials have referred to the perpetrators as "criminal suspects" and say they appear to have no relationship with the Al Qaeda-linked Somali terrorist group Al Shabab.
US Navy SEALs came in by helicopter. The SEALs came from SEAL Team 6, the same unit that killed Osama bin Laden in May, according to the Associated Press. Several pirates were reportedly killed during a gun battle after US special operations forces hit the ground.
The American, Jessica Buchanan, a relief worker for the Danish Demining Group, and the Dane, Poul Thisted, were unharmed, according to US military officials, as were all members of the Navy SEALs.
"I am grateful to report that there was no loss of life or injuries to our personnel," said Secretary of Defense Leon Panetta, in a statement.
Mr. Panetta received hearty congratulations from President Obama Tuesday night before the State of the Union address. As he entered the US Capitol chamber, Mr. Obama pointed to the defense secretary, saying "Good job tonight."
---