Women in combat: Pentagon opens door to front lines
The Pentagon has opened the door for women to serve in combat – but just barely. Women will still not officially fight in battle, but new rules acknowledge their role on the front line.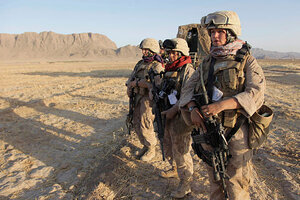 Julie Jacobson/AP
The Pentagon Thursday cracked open the door for women to serve in combat, though they will still not be permitted to fight in battle – at least officially.
Many of the jobs that the Pentagon plans to make available to women – including the chance to serve as medics and radio operators in certain battalions – will likely put them on the front lines.
Senior US military officials acknowledge, however, that in the wars America has fought in Iraq and Afghanistan – rife with irregular battles – women have actually found themselves in combat for quite some time.
The new regulations – set to go into effect this summer – simply acknowledge that fact, they add.
"I have felt for the longest period of time that on a nonlinear battlefield there are no safe jobs," General Peter Chiarelli, who recently retired as the nation's second highest-ranking Army general, told the Washington Post this year. "There is a mistaken belief that somehow that through prohibiting women in combat jobs we can protect them.
More than 255,000 women have served in the wars in Iraq and Afghanistan, and 145 have lost their lives to gunfire and roadside bombs.
Many women say they don't want to be protected at all, but rather to simply be held to the same standards as their male counterparts. Women will continue to be barred from serving as infantry soldiers or in special operations forces.
---